Eye Abnormalities Overview
As collagen IV is present in the cornea, lens, and retina of the eye, these areas can be affected (see eye diagram below, right). Eye abnormalities can include recurrent corneal erosions, lenticonus, fleck retinopathy, macular thinning, and, most rarely, macular holes. Eye changes are uncommon in children and often first appear in teenagers. It is important to note eye changes are more severe in X-linked males and equally as severe in both males and females with ARAS (Autosomal Recessive Alport syndrome).
ASF hosted an educational webinar with Dr. Al-Rabadi and Dr. Paul Berstein on March 24, 2021 to review common ocular features in Alport patients and what they need to know. You can watch the full, closed-captioned recording on the right side bar.
Scroll to the bottom of this page for a listing of ocular-centric research articles and summaries.
Why should I see an ophthalmologist?
An ophthalmologist is a medical doctor that specializes in eye care, including the diagnosis and treatment of eye diseases. It is important to note ophthalmologists can also assess your vision and prescribe corrective eye wear. Most importantly, an ophthalmologist has access to specific instruments necessary to diagnosis Alport-centric eye abnormalities. More on these eye tests below.
Who should see an ophthalmologist?
Those newly diagnosed with Alport syndrome, those with a strong family history of Alport syndrome, and/or those experiencing visual symptoms (such as eye pain or blurry vision).
When and how often should I see an ophthalmologist?
A baseline exam for children diagnosed with Alport syndrome is recommended; follow-up frequency will vary based on initial screening. Adult Alport patients should be screened at least once. As is the case in children, this first exam will guide the frequency of follow-up visits.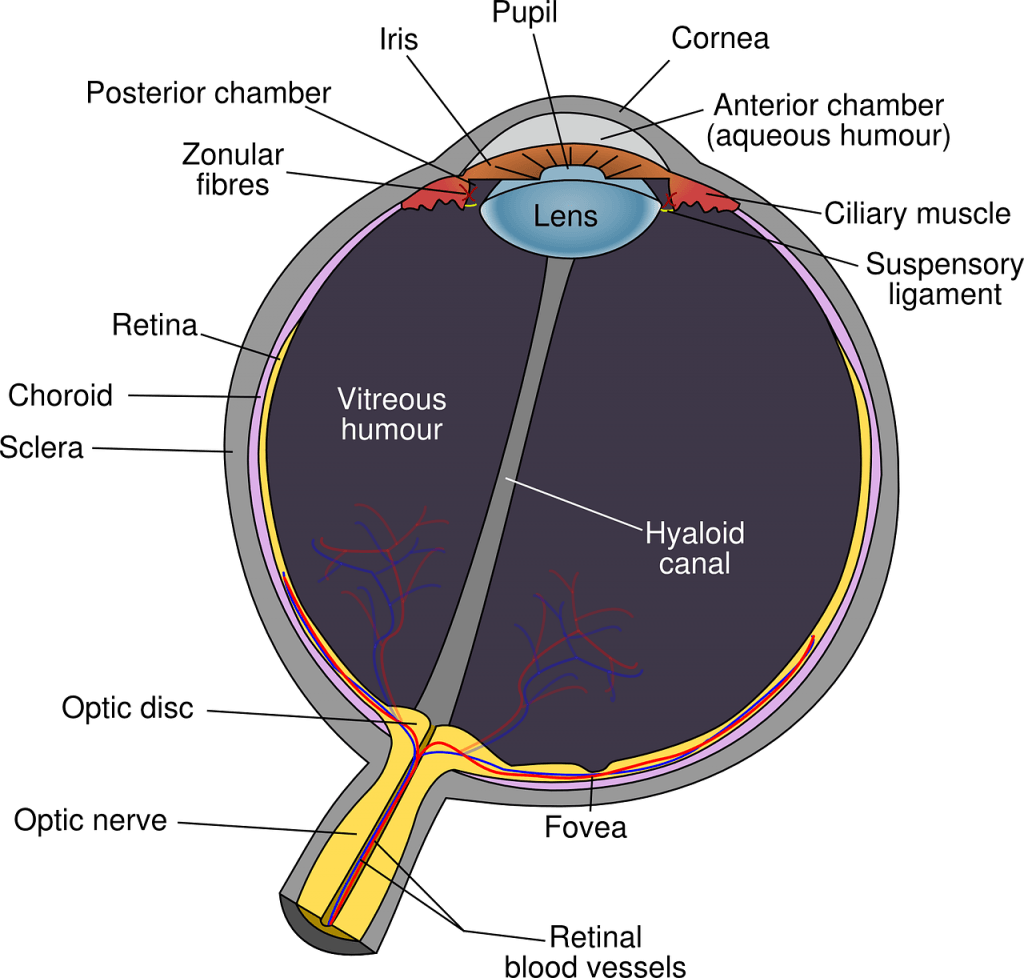 Your Ophthalmologist Visit
Not all ophthalmologists may be familiar with the wide range of Alport-centric eye abnormalities listed further down this page. In April 2021, ASF created a printable document to address this issue (see blue box below). In order to diagnose and address Alport-centric eye abnormalities, the following exams should be performed. Please ensure you ophthalmologist's clinic can perform the following:
Retinal photographs
Ocular Coherence Tomography (OCT)
Wide field color imaging
Other common eye tests include a slit lamp exam, dilated eye exam, and ophthalmoscopy.
This research paper can also be printed/shared with your ophthalmologist.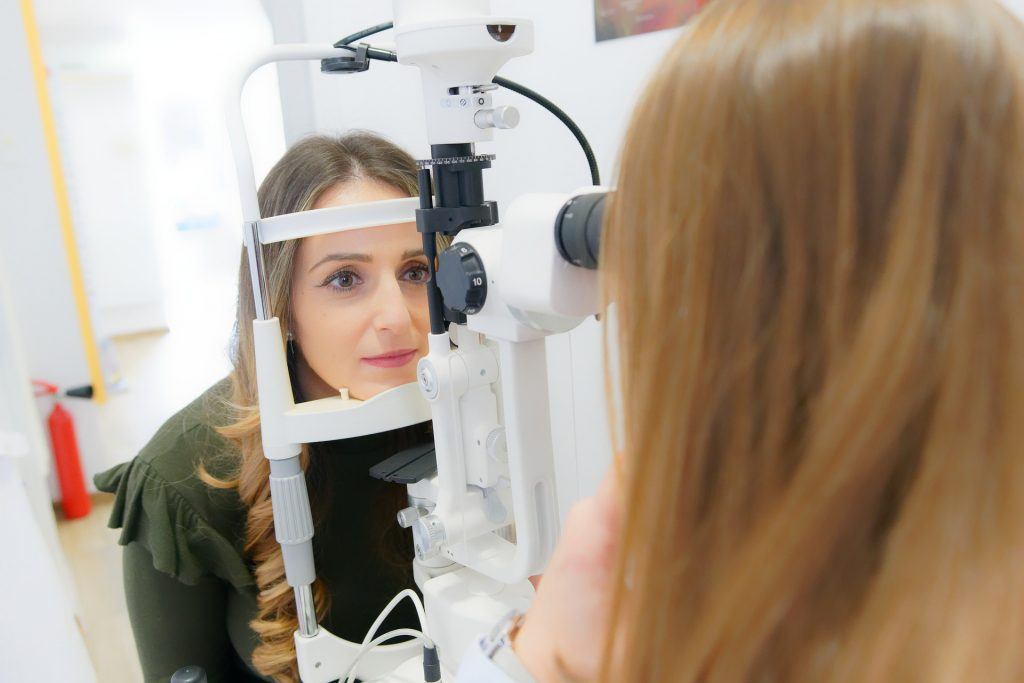 Anterior lenticonus & Retinopathy
Anterior lenticonus is an abnormality in the shape of the lens that affects about 15% to 20% of patients with X-linked and autosomal recessive Alport syndrome. People with anterior lenticonus may have a slow progressive deterioration of vision requiring patients to change the prescription of their glasses frequently. This condition may also lead to cataract formation. Cataracts are also commonly documented in patients post-renal transplant and can be treated with lens replacement.
Many people with Alport syndrome have abnormal pigmentation of the retina called dot-and-fleck retinopathy, but this does not result in any abnormalities of vision. This can be helpful diagnostically, though, especially in women who have no other features of Alport syndrome except hematuria (for which there are other causes).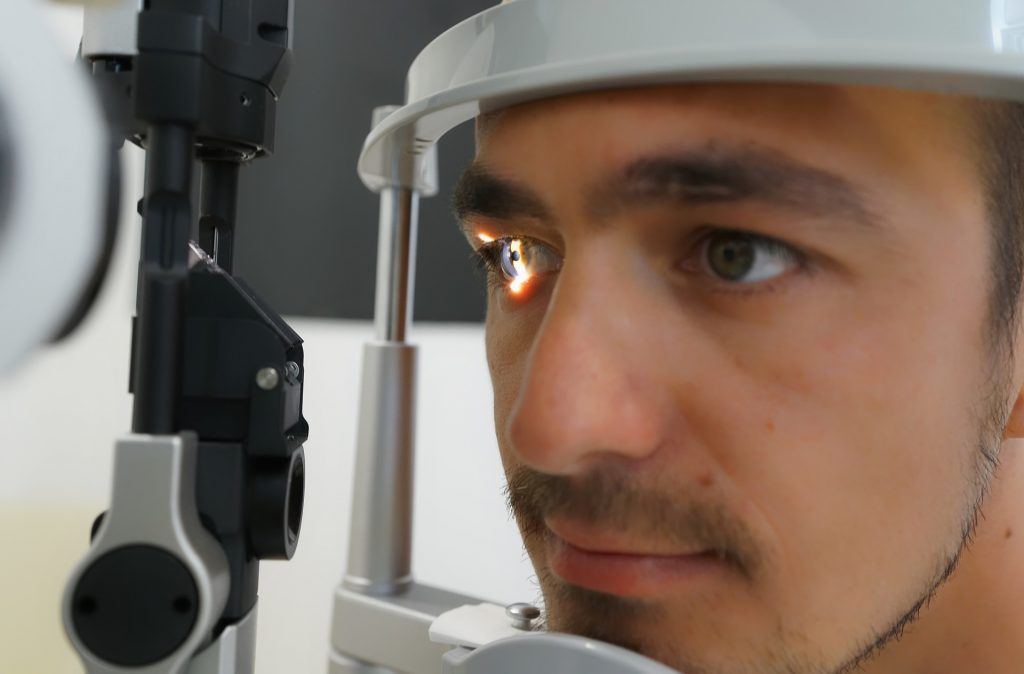 Recurrent Corneal Erosion & Macular Thinning/Holes
Recurrent corneal erosion is another eye problem that can occur in people with Alport syndrome. Individuals who suffer from this have repeated episodes of eye pain, and may need to take measures to protect their corneas from minor trauma such as wearing goggles when riding a bicycle.
A macular hole is another eye issue that affects approximately 5% of patients. This results in a loss of vision and is an extension of the retinal thinning that occurs commonly in X-linked Alport syndrome. Affected individuals will complain of hazy or distorted vision. Alport patients diagnosed with a macular hole are encouraged to contact ASF Staff in order to help eye-centric research.