With our largest annual patient gathering just over a week away, we are focused on providing important details on how to access content and maximize your event experience. This brief communication replaces our usual full-length e-newsletter. We have groundbreaking news to share August 7&8 at Alport Connect 2021. We look forward to your participation.
-The Board and Staff of Alport Syndrome Foundation, 7/29/21
Some important event updates:
390+ patients, family members, and physicians from 42 states and 14 countries have already registered to attend our all-virtual event.
The virtual event space is NOW OPEN to all registrants and early users can win new ASF swag prizes (learn more below)!
Watch a video recording of our exclusive interview with a renal genetic counselor, learn about research updates and featured event speakers, and more. Have your questions ready for August 7&8 — all our weekend sessions include live Q&A.
Click here to view the Alport Connect 2021 Live Sessions Agenda. Note the weekend concludes with two "Direct Connect" Zoom room options for patients to just talk. Pre-registration is required for access. Limited number of spots open to ensure quality conversation.
In order to ensure both our new and returning virtual event attendees fully understand how to access Alport Connect 2021, we created an explanatory, closed-captioned video and supplemental web page covering everything registrants need to know. New registrants will receive an automatic confirmation email with these details.
ASF is pleased to offer LIVE TECH SUPPORT on August 7&8. If you have trouble accessing the event, contact 

[email protected]

 and you'll automatically receive a link to a live Zoom Meeting to speak with a tech expert who can get you into the sessions.
Questions about the event? Email ASF Staff: [email protected].
August 9th UPDATE: The event has concluded and ticket sales have ceased. Current event registrants can access most event content through August 13, 2021.
Win Prizes Before & During Alport Connect
You can become eligible to WIN ASF Swag prizes in several ways:
-Participate as an early bird in Alport Connect 2021. Download our app, complete your user profile and/or assemble our Alport Puzzle!
-Playing the "Alport Game" – a combination of quiz questions and a virtual scavenger hunt.
-Ask questions using the Q&A function during a live session – the lucky # question will bring you ASF Swag options.
Check out some of the prizes winners can choose from!
New Educational Coloring Book for Children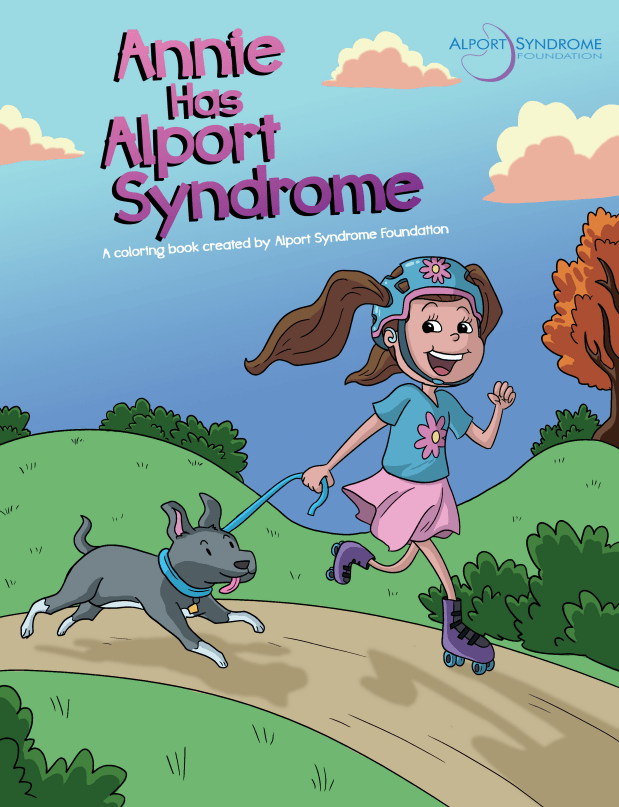 Annie Has Alport Syndrome is a coloring book that tells the story of a young girl with Alport syndrome and her family. It was created by Alport Syndrome Foundation as a gift and educational tool for families to encourage conversations about living with Alport syndrome. Thank you to the families and medical professionals that provided feedback along the way as way created this book.
Alport Connect 2021 registrants whose event registration noted living with a child under the age of 12 will receive a copy of the coloring book and a box of crayons. Looking forward to young artists sharing their colored pages with ASF! We'll be posting some of those colored pages on our website and social media. We appreciate funding from our event sponsors that made this educational project possible.
THANK YOU to our Alport Connect 2021 sponsors: