Funding Opportunity for U.S. Patients Ages 18-24
Open to U.S. patients ages 18-24 affected by Alport syndrome, ASF's Paul Silver Enrichment Award can be used to support education, complete a project, or pursue an activity that will enhance the applicant's life.
Awards of up to $3,000 are offered by the Selection Committee to individual applicants that best meet the evaluation criteria.
Applications are now being accepted.
Completed application forms must be received by 5pm local time on Friday, October 27, 2023.
Award winner(s) will be notified by December 2023.
Created in his memory, Paul Silver's Family and ASF annually award a young person/s affected by Alport syndrome with funds to encourage their pursuit of personal ambitions and interests.
Click the video below to watch 2022 award recipient, Alex, explain why he encourages others to apply.
Click the "CC" button to activate closed captioning
Dapagliflozin (Farxiga) as Alport Treatment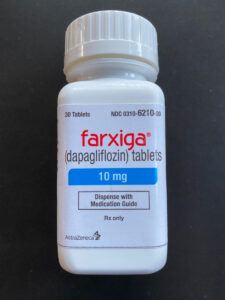 Over the past year, many patients have contacted ASF about the use of the brand name Farxiga, or other medications in this drug class, sodium glucose cotransporter-2 inhibitors (SGLT2is), for the treatment of Alport syndrome. While this drug has not been studied specifically in Alport syndrome patients, it was approved by the FDA in April 2021 to treat chronic kidney disease in adults.
Research has demonstrated that SGLT2is decrease the risk of kidney failure in non-diabetic adult CKD patients. This medication is increasingly being prescribed for adults with glomerular kidney diseases, such as Alport syndrome, either alone or in combination with standard of care ACE/ARB blood pressure medications.
With assistance from our Medical Advisory Committee, information about the use of SGLT2is to treat adult Alport patients is now listed on the Medications and Monitoring page of our website.
Alport Family Advocates for Pediatric Studies

An important effort to explore the potential study of SGLT2is, such as dapagliflozin (Farxiga), for safety and efficacy in children is underway. A meeting for stakeholders to discuss the topic was held July 13 and 14 in National Harbor, MD, organized by the Kidney Heath Initiative, NephCure, and the FDA.
Alport Syndrome Foundation was invited to attend and was asked to invite a pediatric patient and caregiver to participate in a patient panel. Nhalani West and her mother, December, did an excellent job sharing their family's experiences with Alport syndrome, as well as insights related to the need for additional medication options and for expanding pediatric clinical studies that may lead to new therapeutics.
When Should Dialysis Be Initiated in Young Patients?

In this month's online edition of the Clinical Journal of the American Society of Nephrology (CJASN), an invited patient perspective article in response to a published study on dialysis treatment in young patients ages 1-25 years old is contributed by ASF Executive Director, Lisa Bonebrake. An excerpt is shared below:
…The focus on pediatric kidney replacement therapy (KRT) is valuable. However, one of the most important considerations for initiating treatment is extremely individual: the patient's goals. I encourage physicians to ask patients what their goals are before initiating life-changing KRT. It could be to finish a year of college, learn to drive, attend a dance, or take a trip. Motivation for life is key at any age. If dialysis can be avoided or delayed, or personal goals accommodated, let that be an important factor in guiding treatment.
Lisa's full patient perspective response can be read here and will appear in the August 2023 print edition of CJASN.
Waterproof Hearing Aid Technology Now Available
Just in time for summer, waterproof hearing aids are now available! Dr. Todd Landsberg, AuD (Alport patient and audiologist), graciously prepared an overview of the currently available waterproof hearing aids on the market in the U.S. While earlier models were labeled as "water resistant," these updated devices offer added protection when submerged in water.
Click here to read more about the different models of this technology, learn which might work best for you and/or your child, and view tips to protect non-waterproof hearing aids.
Stay tuned — we plan on adding new items to our store later this year!
We Want to Help You Get To San Diego!
Alport Connect 2023 (in-person only this year) is around the corner: October 7 & 8, 2023 in San Diego, CA. It is our annual opportunity for Alport patients and families to meet each other in person, build community, and learn from medical experts and from one another. Some of the leading researchers and nephrologists in Alport syndrome will be joining us.
A small number of adult, teen, and kids tickets remain. Learn about these unique, simultaneous programs and secure your spot today to guarantee admittance.
Additionally, a limited number of travel stipends, based on miles needed to travel, are still available for patients and caregivers in the United States.
A few comments from prior Alport Connect attendees:
Just talking to other moms of small children with Alport syndrome was the best.
The importance of sharing, listening and connecting. I had disregarded this, but now know how important it is.
It was nice to have other people talk about symptoms that are affecting their entire body instead of only discussing the kidney aspect of our disease.
Our youngest patients have a voice too – so important.
Register soon before space and travel stipends are gone!
Questions? Email [email protected]
Thank you to our Alport Connect 2023 sponsors: